Hayley Paige wedding gowns are perfect for brides seeking something as unique as they are. Every individual design features a touch of the unexpected from floating, layered skirts, subtle use of colour, and delicate illusion bodices that create a design look unlike any other collection.
Hayley's dresses manage to bring together a modern pairing of sweet femininity with a dash of edginess to create a wedding gown like no other. For truly captivating wedding dresses, look no further than the Hayley Paige bridal collections.
You can always count on Hayley Paige wedding dresses to bring fun and sparkle to the party. A Hayley Paige dress is cut to precision allowing the bride to move freely and dance the night away. Imaginative interpretations mean her wedding dress designs are perfect for brides who are looking for a truly unique wedding dress. She marries (pun intended) exceptional levels of detail alongside her playful designs which encapsulate the fun-loving bride.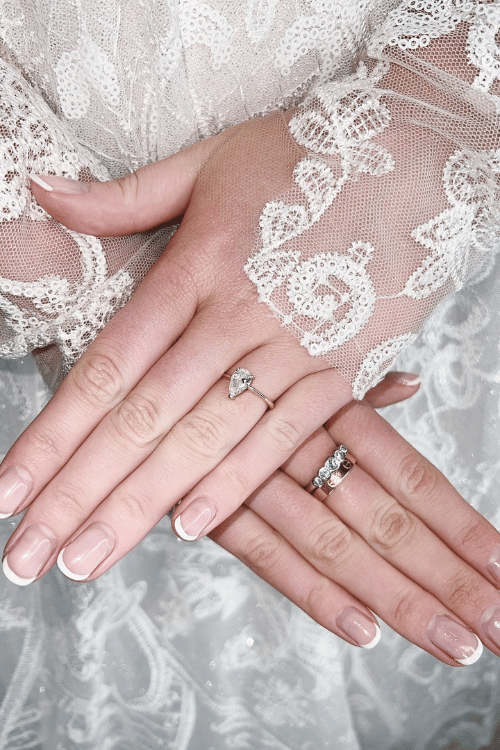 Prices: £2600-£4350
*Please note, not all our gowns in the studio are shown on the website, this is just a small selection of what we have in store.
Veil & Vow
Here at Veil & Vow, we know you and your fiancé have been waiting for this moment your whole life, so we want to make the process easy as can be! We believe your special day deserves the perfect wedding dress and with Hayley Paige's bridal collections the opportunity to find your dream gown is even easier than you can imagine. Based in Burton, our business is designed to help brides find their ideal dresses. So why don't you check out our Instagram or Facebook account and send us a message and you could be on your way to see our wide selection of dresses and judge which will be perfect for you and your fiancé's special day.
The interpretation of bridal wear found in the Hayley Paige bridal collections is the peak of fashion and these gowns are perfect for any ceremony. Look no further, we have found all the styles you could need from life.
These dresses are ready to wear in a range of styles. Our Hayley Paige bridal collections wedding dresses are perfect for your ceremony and are ready to wear, so come and see what we have to offer.
While JLM Couture offers a variety of different address, Hayley Paige bridal collections stand as the most beautiful.
Hayley Paige's background:
While attending Cornell University, Paige began her fashion career by interning for Nina Garcia at Elle magazine. During a showcase of Hayley Paiges bridal wear, Jill Stuart sat in the audience and hired Paige on the spot. Shortly after, Hayley Paige became a head designer for Melissa Sweet bridal wear. Then in 2011, Paige became a head designer for JLM couture, showing her dedication really paid off. From attending Cornell university to becoming well-known for her interpretation of wedding dresses, Hayley Paige designs are truly loved by us.