We all know that on your special day, your dress will be one of the most spectacular points of the day.
At Veil & Vow, we know how important it is for you to find your dream dress. However, we also know the intricate detail required to fulfil your search, so let's start at the top of the dress: the neckline!
Why does the neckline matter?
The right neckline will perfectly enhance your facial structure and also ensure proportion between your neck and shoulders. This will add to the elegance you want to look and feel on your wedding day.
If you're not sure which neckline best compliments you, then fear not… we are here to help.
The Sweetheart
The sweetheart neckline is a popular choice, often said to resemble the top of a love heart. An example can be seen in our Ronald Joyce collection page. This strapless choice is said to give brides a longer and leaner appearance.
While strapless options can be beautiful, many women are deterred due to the lack of support for their breasts and fear of unwanted exposures on the dance floor. If this fear applies to you we can accommodate with our semi-sweetheart necklines, which are slightly higher on the chest.
Or, if your heart is dead set on the original sweetheart design, we can tailor your dress to your body to ensure you feel more comfortable!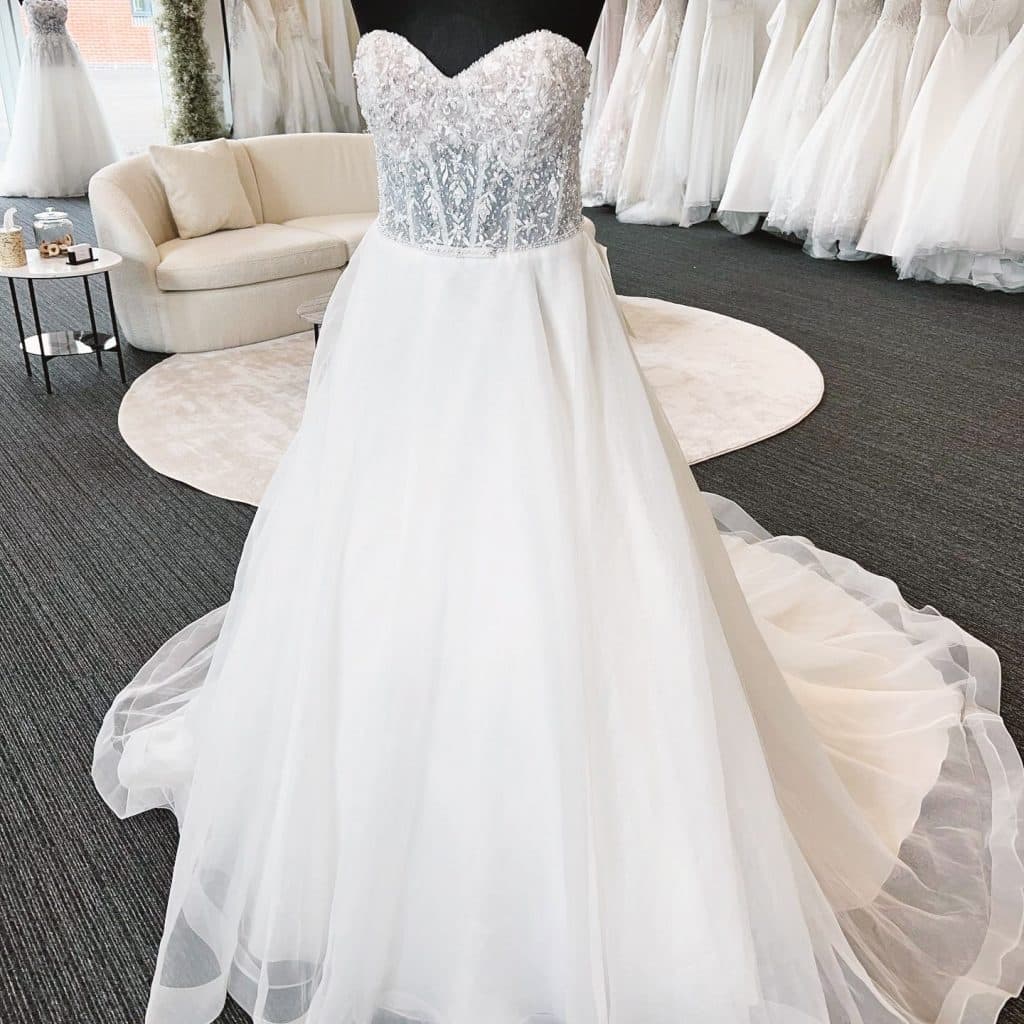 Straight Neckline
This type of neckline is very similar to the sweetheart, however without the dip in the centre. Straight necklines provide more security and coverage to the chest area, making it a preferred style for those with larger breasts.
Another reason women may choose the style over the sweetheart is because it is seen as a more classy and modern look, which older brides may prefer.
V-Neck
Unlike the previous two, the V-neck does have straps meaning women feel more supported and therefore more comfortable in their wedding dress. Comfort is a key aspect when deciding on your wedding dress. Ensure you can focus on the important things like spending time with loved ones, rather than worrying about moving your dress around.
The V-Neck works nicely to put focus on the shoulders and waist, creating an hourglass figure, whilst also lengthening the look of the body. This neckline suits all women and with the ability to decide on how long the dip is allows further control over your dress.
Illusion
The illusion neckline is created by a soft sheer fabric being attached to the dress, usually at the base of the straps and across the bodice to then underneath show a plunge or v-neck neckline.
This design can be used in several different ways so whether you're looking for a "modern elegance" or a "dramatic silhouette" this may be the choice for you.
High
High neck weddings gowns are usually suggested towards brides with broader shoulders, as it brings the attention inwards towards the chest and neck.
High necklines can look really elegant, some brides worry this means any additional jewellery, like necklaces, may look too much but if you choose to go with a plain top half of your dress you reduce the risk of looking too "crowded".
Plunge
The plunge is very similar to the v-neck in its style, often also referred to as the "Deep V-Neck". Often the plunge is a further descending downward slit towards the waist.
Again this style is said to suit most body types, enhancing an hourglass figure. Which is often one of the key reasons our clients love this neckline. Check out examples of this on our Madison James range.
So, now you know the main types of neckline, which will you pick? Call up today to book an appointment and we can help you find the perfect design for you!